Beloit Crime Stoppers Cruise Night 2013:
Cruise Night Sept. 14th 2013
Info At: www.visitbeloit.com * 608.751.2193
---
Beloit Crime Stoppers Cruise Night 06:
Article reprinted from the Beloit Daily News
'Cruise Night' roars in Beloit
Posted: Monday, Sep 18, 2006 - 11:43:39 am CDT
By Rasmieyh Abdelnabi
Daily News Staff Writer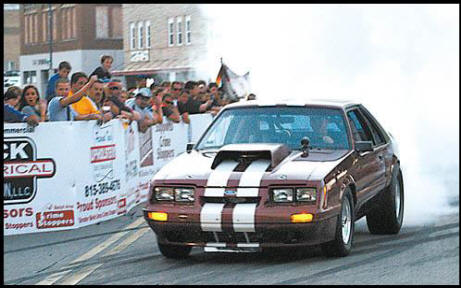 Staff photo by Kyle R. Morris
James Otto delights the crowd as he flexes his 1986 Ford Mustang's American-made muscle during a burnout session at Crime Stopper's Cruise night. People were allowed to burnout their cars for a meager $5 fee.

More room was needed for cruisers this year, so the third annual Cruise Night was held in Beloit.

Last year, the event was in South Beloit. Duane Drevdahl, co-chair of the event and Crime Stoppers board member, said the available space in South Beloit was not conducive.

"Not that it wasn't a good time, but cruisers need space to cruise," he said.

A major event featured at Cruise Night was the burnout pit. It attracted the crowd like bees to honey. For $5, people could burn their tires in a designated area on East Grand Avenue and Fourth Street.


"It's a guy thing, it's fun. Guys like doing it, people like seeing," Drevdahl said. "It captures a whole new kind of crowd."

He said last year, Cruise Night raised almost $10,000 for Crime Stoppers. Drevdahl expects to raise more this year.

"I love drag racing and Nascar. I get a rush from it. We all get a rush from it," said Christine Schultz of Beloit, who came with family and friends to enjoy the burnout pit.

Schultz remembers when it wasn't illegal to burn one's tires on the street. She said it's about having fun and taking pleasure in what a car is capable of doing.

As one man in the crowd put it, "It's all about the power, it's all about the motor. They take a motor, make it from nothing."

Brian Doubler of Beloit said it makes older men feel young and young men feel cool.

"It's kind of like speeding without hurting anyone," he said.

Another feature of Cruise Night was the vehicles on display. For $5, people could park their vehicles in the Iron Works parking lot for spectators to view.

Gary Rodling of South Beloit put his 1929 Ford Coupe on display. He bought it a year and half ago.

"It's a toy," he said. "When you get old, you don't drink beer and go out and raise hell. You want to spend your money on something good."

Rodling participates in Cruise Night because he enjoys the cruising part of the evening, especially because he drives around with his wife, Julie, and two sons.

For Roger Fleener of Beloit Cruise Night is a family event as well. He not only came with his wife, Jan, but also with his son and daughter-in-law, Greg and Deena, and his grandchildren, Kody, 9, and Grace, 5. Also attending with the Fleeners was family friend Karen Mascharka of Beloit.

Fleener bought his 1965 Ford Mustang four years ago in Missouri. He purposely bought it from Missouri because the Mustang has never been driven on salt-filled roads, so it didn't rust over the years.

Fleener has participated in a number of cruise nights.

"Because I like cars and I like to show (my car) off once in awhile," he explained.

Little Grace came to see the small green cars, she said as she sat on a lawn chair next to her grandpa's Mustang.

Kody enjoyed his time at the burnout pit, he said.

Their mother, Deena, liked the noise and smoke the burnout pit produced. Overall, she liked the event.

"I like the music, I like talking to the people. There's a good mix of people, all kinds of people," she said.

For Mascharka, she also found enjoyment in the music and the people. But what made the evening even better was the great weather and a wonderful breeze, she said.

As for the burnout pit, Mascharka was not a great fan.

"I thought it was smelly and testosterone loaded," she said.

Cruise Night and Oktoberfest came together this weekend, however Oktoberfest did not receive as many visitors as Cruise Night. It appeared as though the burnout pit stole Oktoberfest's spotlight.

In a sparingly-filled tent, Beloit College sophomore Sarah Warzecha and her parents, Tom and Laura of Sycamore, Ill., enjoyed the band's renditions of various German melodies.

Tom found out about Oktoberfest through the Internet. When asked about Cruise Night and whether they would be stopping there before calling it a night he said, "There are enough cruise nights in Sycamore."
---
A special thanks to Hannah Hall
for these pictures from the 2005 burnouts
---
More shots from the 2005 Burnouts.
If you have pictures you would like to share, e-mail them to me at: pictures@beloitautorama.com